Explor­ing indus­try data, eval­u­at­ing which brands are vis­i­ble for dif­fer­ent terms and mar­kets, and find­ing the best pages on the inter­net (with their esti­mat­ed traf­fic, and equiv­a­lent paid search val­ue), is some­thing I've been enjoy­ing doing at Linkdex behind closed doors for a few weeks whilst we test our new page-lev­el vis­i­bil­i­ty fea­ture. Today it goes live, and I want­ed to share with you some of exam­ples of some fun stuff we've found.
I some­times shop at Wait­rose. It turns out that Linkdex has them rank­ing for over 111,000 key­words. They have near­ly 19,000 unique rank­ing pages that are gen­er­at­ing over 700,000 vis­its a month.
When bench­marked against Sainsbury's, it's clear they are not doing as well. Sainsbury's are being found for more key­words, have more rank­ing pages, and unsur­pris­ing­ly are gen­er­at­ing more traf­fic and val­ue.
But per­haps brand search­es are the dif­fer­ent, so let's fil­ter to exclude brand names:
So I exclud­ed all the vari­a­tions of the spelling "Sainsbury's" and "Wait­rose" using the search fil­ter. With Vis­i­bil­i­ty's search fil­ters you can define sim­ple key­word search­es and oper­a­tors — such as "AND", or "-" oper­a­tors to exclude cer­tain key­words. Doing this ensures you're com­par­ing apples with apples.
It turns out that Sainsbury's are still win­ning.
OK. Let's look deep­er. Mmm­m­mm. What about "wed­ding cake"? So I added the search "wed­ding AND cake" to see what the state of the nations is for a non-brand­ed wed­ding cake show­down between Wait­rose and Sainsbury's. And the win­ner is….
Wait­rose. Bet­ter rank­ings, more con­tent, and more traf­fic and val­ue gen­er­at­ed. So what's their secret sauce?
I'm now look­ing at just Wait­rose, hav­ing fil­tered by "wed­ding AND cake", and it's pos­si­ble to see the rel­e­vant key­words rank­ings, and also the 29 rank­ing pages deliv­er­ing val­ue. One in par­tic­u­lar is stand­ing out.
Using the new page-lev­el fil­ter to drill down to just this page reveals some inter­est­ing results: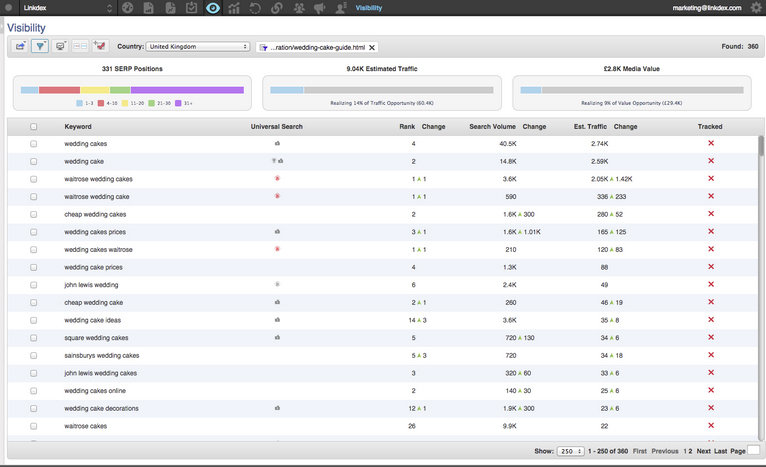 About 10,000 vis­its a month, and over £40,000 of equiv­a­lent paid search val­ue per year.
So what doesn't it rank for well? A quick scan shows me that rank­ings out­side the top 10 often have the word 'ideas' in. Let's trty anoth­er fil­ter…
It would appear that a good opti­mi­sa­tion exper­i­ment Wait­rose could try would be to include more con­tent on "ideas". In addi­tion, a high­ly rank­ing, real­ly good wed­ding cake guide page could be bet­ter and grab anoth­er 1,500 vis­its.
This process was­n't just fun (OK, and I'm lit­tle geeky), it was real­ly easy, and any­one could do the same to increase rev­enues using basic SEO tech­niques.
Now if I was in the wed­ding cake mar­ket myself I'd want to look deep­er at this. I'd use Linkdex to check out the vol­ume of inter­nal and exter­nal links, as well as social shares to this page. Who's linked where? And can they link to me? Who are the authors rank­ing for key­words with "wed­ding AND cakes"?
Enti­ty search gives us sev­en­ty influ­en­tial authors. Boom. Now if i'm Sains­bury's, all I need to do is write a killer page, one that gets peo­ple talk­ing and using your page as a resource (bet­ter than Wait­rose's).
All in all this is pret­ty pow­er­ful stuff for less than 15 min­utes work.
So… what would the best wed­ding cake con­tent look like, that these peo­ple want to con­tribute and link to?
White board ses­sion any­one. Can I be chief scribe?
And there you have it; a whis­tle-stop tour of just how easy it is to dis­cov­er insights and oppor­tu­ni­ties. I hope you enjoy the new page-lev­el fil­ter, and be sure to make the most of Lin­dex's extreme­ly flex­i­ble fil­ter­ing and bench­mark­ing soft­ware. Let us know what you find!